Personalised Money Boxes - The Perfect Present
Want a gift to help someone to save their pennies for something special? Well, here within our Web Shed you are bound to find just the right money box to suit any occasion or person. From traditional piggy banks, to other shapes and sizes of money banks we've got a huge range at affordable prices.
Browse our range of novelty money boxes online.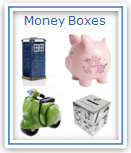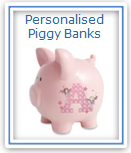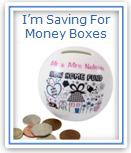 We are proud of our choice of personalised piggy banks & money banks for children online. Here at Shed Loads of Gifts, we are dedicated to providing customers with great gifts at affordable prices. We have a range of novelty piggy banks and money boxes to suit every price range and we are confident that we have the perfect product for you in our collection. Our money boxes can be engraved to meet your exact needs.
Our range includes: a multitude of ball shaped boxes in a variety of themes for every age. We also have a range of silver plated money boxes in a medley of shapes including: ark, pirate ship, steam train, VW Beetle and a digger, to name but a few. All of these money boxes can be personalised for that individual finish.

Looking for the perfect Gift? Shop Online Today
Shopping online for novelty gifts is made easier with this category. Simply browse our superb selection of novelty gifts at the touch of a button. We are here to help take the 'slog' out of shopping for novelty gifts.